The CARE Certification (Civilian Actions for Real Emergencies)™ course curriculum offers a wide range of options to address the unique environments, tasks and responsibilities of potential students.
This is the first of its kind,  industry-leading, customizable training course, combines verbal de-escalation training, active shooter response, and traumatic wound care into an engaging and highly effective, 2-hour training course.
CARE Certification can be customized for different departments and personnel specializations, adding in physical and intervention skills, leadership and supervisory training for high-threat situations, mass casualty event coordination, and more.
CARE Certification (Civilian Actions for Real Emergencies)™ is on track to become the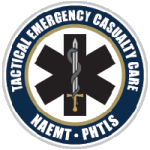 21st centuries most advanced "CPR, First Aid, and Workplace Violence Prevention" combined training course, meeting the most progressive demands of today's corporate workplaces.     
OSHA, NIMS, Joint Commission & CARF Compliant 
---
CARE Certification (Civilian Actions for Real Emergencies)™
Offering numerous pre-planned (below) or customizable training options, CARE Certification training meets all emergency preparedness needs in the workplace.
CARE-Corporate certification (All hands/general staff option)
CARE-Administrative certification (Supervisory/Upper Management)
CARE-Responder (Security/Floor Warden/Responder)
CARE-Expanded (Custom Designed Course)
The general framework for the CARE Certification (Civilian Action for Real Emergencies) course is provided below:
---
Topics shown are customizable, and may be tailored to each specific organization.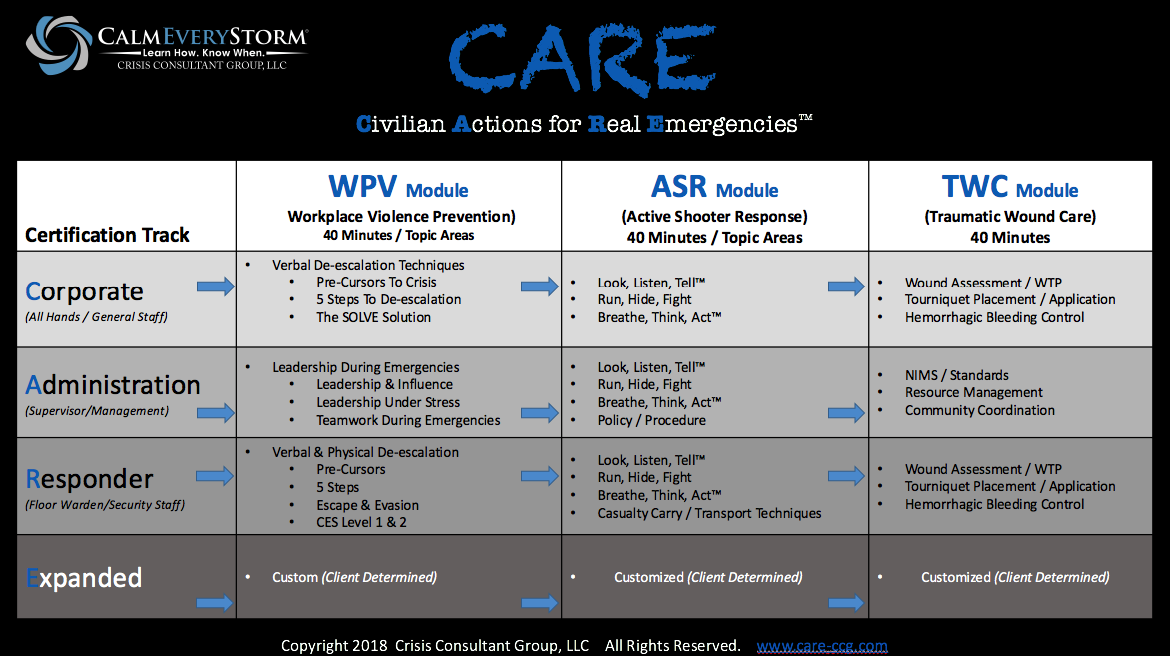 ---
CARE – Corporate: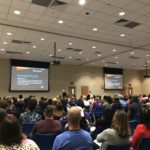 The CARE Corporate learning track is tailored to all-hands/general staff.  Whether working in offices, cubicles, open-area, reception, dietary, services, or similar positions, this course addresses the main components of Workplace Violence, Active Shooter Response, and Traumatic Wound Care topics, specifically tailored for the standard corporate employee.  
---
CARE – Administrative: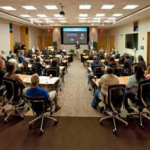 The CARE Administrative learning track is tailored to upper and senior management.  Leading from the top, preparing, delegating, and monitoring events from a macro-view is what the CARE Administrative track is all about.  Executives stand to benefit from leadership lessons on communication, delegation, and related process and systems based approaches to mitigation of crisis and related emergency situations.  
---
CARE – Responder: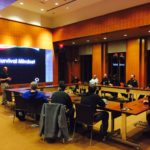 The CARE Responder learning track is tailored to security staff, floor warden, safety officer, and related responder personnel.  After gaining certification in the CARE Corporate basic level of instruction, these students are provided with additional skills and advanced techniques to mitigate emergency situations.  Attendees will be provided with multiple opportunities to apply what they have learned in brief, fast-paced, and highly effective scenario-based training evolutions.
---
CARE – Expanded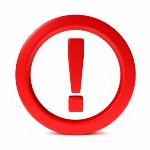 Customized training to meet the organizations needs and objectives.  Combining as much or as little as necessary of the modules to empower and strengthen an organization for emergencies.
---
We make every effort to meet your budget, timeline, and curriculum demands. Please contact us so we may create just the right CARE Certification (Civilian Actions for Real Emergencies)™ training option for your workforce.