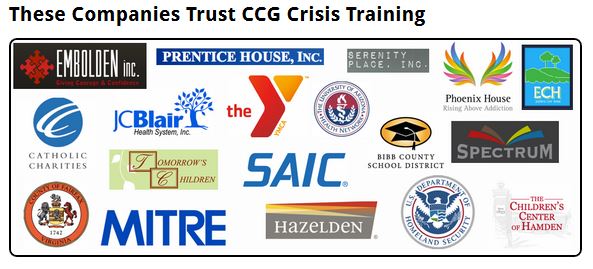 Workplace violence is occurring around the nation, and the world on a daily basis. Assaults on healthcare workers, teachers, retail employees, etc. are making headlines nearly every day.
Your employees need highly effective violence prevention training. Placing an outdated DVD or video into your initial on-the-job, or orientation training process is not only ineffective, but could be the cause of costly liability, and lives lost.
The Crisis Consultant Group, LLC has been providing the safest, most effective, and most realistic verbal and physical crisis intervention training in Washington Dc and throughout the United States for over 10 years. Currently utilized in 26 states around the country, the Calm Every Storm® training curriculum has been proven to enhance safety and security of both consumers and the responders who have to assist them.
Ensuring the Safety Of Your Workforce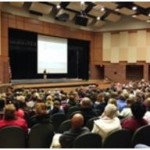 Approved by numerous state and local licensing authorities, based upon Best Practices, and compliant with Accreditation Guidelines, the Calm Every Storm® nonviolent crisis prevention and intervention training curriculum has increased the safety and security of educators, hospital staff, law enforcement, correctional officers, detention workers, youth workers, group home staff, corporate employees, and security staff.
Based in Richmond, VA our instructors are able to easily provide on-site training at any location, on any day of the week, as well as any hour of the day. Meeting the needs of your employees and your organization is our primary concern. Courses have been taught beginning at 10pm, or at 6pm on a weekend evening, just to better meet scheduling demands of our clients.
Customized Training
The Crisis Consultant Group, LLC works with your organization to customize our training so that your employees get only the training they need, vs. a "canned product". Dealing with crisis situations and challenging behavior requires a "fluid-like, flexible" response, therefore, our training programs strive to ensure the most effective information is provided to your staff throughout each and every course we teach.
Our Master Instructors bring years of experience on the "front-lines" dealing with challenging behavior. Through the use of a respect driven philosophy, based around the concept that each individual deserves to be treated with dignity and respect, each participant is empowered to resolve crisis situations through both verbal and (if necessary) nonviolent physical intervention.
With over 10 years in the industry, we have many, many satisfied clients to speak volumes about how safe, effective and helpful our training has been. We are always happy to let you speak to them and help make the right decision for your organization.
Contact us today to find out more about how our Washington DC crisis intervention training can help you.