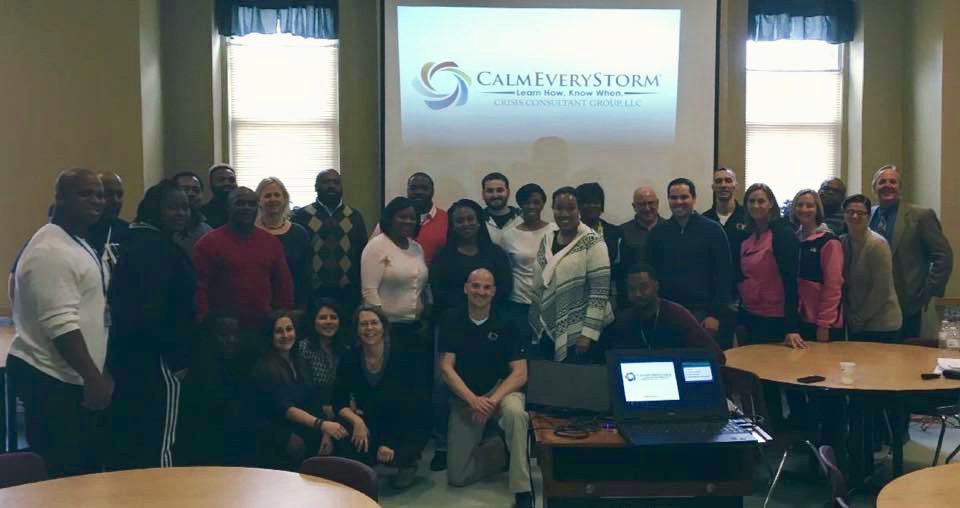 CCG helping the great team at Children's Center of Hamden, CT
For nearly the past decade, the Children's Center of Hamden has been utilizing the Calm Every Storm, verbal and physical crisis intervention within the organization to effectively manage and mitigate crisis events.
Making the change from a different training provider was not a decision that came quickly, and much time and careful consideration was taken by the administration, management and front line staff of the organization to ensure the best curriculum was selected, that met both the clients and staffs needs. If you need cpi training please visit our cpi training page on our cpi training blog.
Each and every year, not only does CCOH staff get re-certified in the CES curriculum as required by CT Department of Children and Families guidelines, but they take the extra effort to maintain Certified Facility Trainers on staff, so that each and every crisis situation is carefully reviewed, monitored, and documented so that necessary improvements and or adjustments can be made by CCOH to better serve the need of all.
Year after year they continue to improve safety and security, increase staff communication,  enhance client to staff interaction, and reduce crisis situations.  We are very happy to continue to be a part of Children's Center of Hamden's success and look forward to continuing to do our best to provide excellent training to an excellent organization!
More information about Children's Center of Hamden: 
The Children's Center of Hamden is a private, nonprofit child care agency in Hamden, Connecticut that engages more than 150 highly skilled childcare workers, therapists and teachers to provide quality treatment, care and education in an encouraging and responsible setting.
Offering:
Residential/Inpatient Treatment Programs
Outpatient Treatment Programs
Onsite School K-12
Each day The Children's Center of Hamden services an average of 170 children and their families.   Although most of those we serve are from the Greater New Haven area, The Children's Center serves youth from all parts of Connecticut.
Nationally Accredited by the Joint Commission, and State Licensed
Website: www.childrenscenterhamden.org