Howie Scott
ATR Division Lead / Master Instructor
---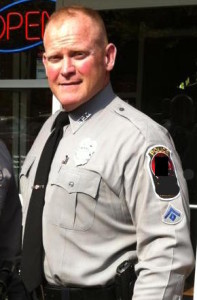 Howie Scott currently serves as the Active Threat Response Division Lead, and a Master Instructor in the Calm Every Storm curriculum.  Howie is a highly experienced member of the Law Enforcement and Tactical Community. Howie has spent over 31 years working in Law Enforcement, with over 15 years of it on a full-time SWAT team in one of the most advanced and progressive departments in the country.
Having participated as a SWAT officer in over 1500 documented high-risk search warrants, and over 150 hostage-barricade situations, he is no stranger to crisis situations and high threat scenario's.  His experience and dedication towards keeping citizens and the community safe is beyond reproach.  A humble and a talented instructor, we are honored to have him on our training and administrative team.
HIGHLIGHTS
Active Shooter to Law Enforcement and P.A.C.O.P.S. Instructor
Defensive Tactics Instructor / 21 Years
SPEAR – Tactics of Arrest and Control Systems® Instructor
SPEAR – Personal Defense Readiness Fundamentals® Instructor
Gracie Jiu Jitsu For Law Enforcement Instructor
Krav Maga Instructor / CPR/First Aid Instructor
Undercover Operations / Advanced Lethal Weapons Training
Firearms Training Specialist
Firearms and Weapons Expert
VIP Protection / O. C. Instructor
Hostage Negotiator
SWAT Operator 15 Years
Sniper Instructor / 223 Rifle Instructor
Handgun Instructor / Tactical Shotgun Instructor
Tazer® Instructor
Red Man® Instructor
Shoot House Instructor
Mechanical Breacher / Ballistic Breacher / Explosive Breacher
Tactical Submachine Gun Operator
Tactical Combat Casualty Care – Military Provider Course (TCCC) – NAEMT
ACCOMPLISHMENTS
Participated in over 1,500 high risk search warrants.
Participated in over 150 Hostage/ Barricade situations
Involved in numerous United States Presidential details and other VIP details.
Involved in numerous high risk stakeouts.
2013-Present Fairfax Criminal Justice Academy Instructor
Numerous letters of professional accommodations
2000 Co-taught Myrtle Beach SC, Horry County SC. Sniper School
Lead Fairfax County Criminal Justice Academy SWAT School Instructor '05-'09
Lead Instructor Charleston South Carolina SWAT School 2009
2010 Awarded Meritorious Service Award for outstanding Performance
1999 to Present – Active Shooter to Law Enforcement and P.A.C.O.P.S. Instructor
Guest evaluator for the private sector to include SAIC, NRO and local government organizations.
TIMELINE
1986-1992 Fairfax County Sheriff's Deputy assigned to confinement
1992-1997 Fairfax County Police / Patrol Officer
1997-2013 Fairfax County Police / Full-Time SWAT Team Member (15+ Years)
EDUCATION
Ferrum College – Ferrum, VA
Graduated from the Fairfax County Criminal Justice Academy 1987
Graduated from United States Capital Police SWAT School 1998
INTERNATIONAL EXPERIENCE
Building Security and Building Search instruction, Qatar – Qatar National Police