Calm Every Storm Hardcopy & E-book
$12.95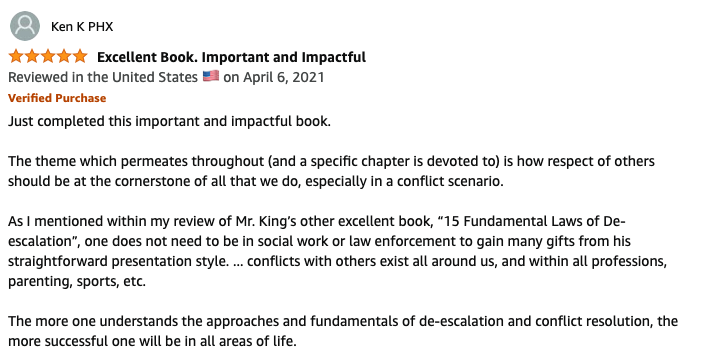 Description
Now Available!
Combining over 20 years of mental health, probation, military, and law enforcement experience, dealing with violent and aggressive individuals, CEO and Founder of Crisis Consultant Group, Mr. Brendan King has compiled over 80 highly effective verbal de-escalation techniques into this instructional book.
At-risk youth workers, police officers, mental health workers, nurses, psychiatric technicians, correctional officers, teachers, EMT's, HR professionals, and parents, all stand to gain valuable insight, tips, and methods to immediately utilize when dealing with individuals in crisis.  Whether working with children, teenagers, or adults, these verbal de-escalation techniques serve to help the responder stay calm and professional while intervening in hostile or challenging situations.  Tips on how to stay focused, recognize patterns, identify precursors to crisis, developing active listening skills, and various methods to build rapport are a few of the many topics covered.
Written in an easy, conversation-style format with countless scenario based stories, humor, and incredible insight into the mind of both responder and individual in crisis, this book is sure to add to your de-escalation toolbox.
This book should find its way onto your "required reading" list if you seek to Calm Every Storm and gain proficiency at Preventing Aggressive Behavior With Your Words.