Brendan King
CEO and Founder
---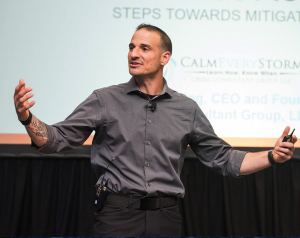 Brendan King, CEO and Founder
Mr. King has spent over two decades working and volunteering in a multitude of crisis workplace environments. Starting his professional career working in mental health and substance abuse treatment centers in 1992, he worked in both long term and acute psychiatric and residential treatment facilities. He excelled in both direct care and supervisory positions and eventually worked his way up the professional ladder serving as a Unit Manager and Alternate Program Director for a 56-bed adolescent behavioral modification treatment program. During his tenure in that role he was also assigned to serve as a Unit Coordinator for a 19 bed Adolescent Sex Offenders program.
While working in the mental health and rehabilitation industry he was certified in a number of nationally recognized Crisis Prevention and Intervention Training programs, and co-led ongoing employee training of nearly 140 staff members within one of the facilities for which he worked. He was also responsible for the development and creation of two adolescent behavioral modification treatment models which were later implemented for use with both Chemically Dependent and Dually Diagnosed patients within the residential treatment unit.
Throughout those years he participated in over 400 documented crisis situations involving aggressive, dangerous, and mentally ill individuals where he was required to intervene attempting to utilize verbal and physical techniques, which at the time were thought to be the "standard" for the industry, routinely turned out to be ineffective, dangerous, and difficult to actually utilize. While unfortunate and frustrating at the time, it was a result of those harrowing experiences that drove him to develop a safer and more effective method to intervene during crisis situations.
That drive led to the creation and launch of the Crisis Consultant Group, LLC in 2004, teaching a highly effective, safe, and incredibly realistic curriculum of verbal and physical intervention techniques, currently utilized in 36 States across the USA and internationally, and in a myriad of workplace environments.
Mr. King has been honored to speak and teach at numerous events working with both large and small organizations, such as the Department of Homeland Security, the Texas School Safety Center, Northern Virginia Public Schools, SAIC, General Dynamics, SPIRE Energy, the American Gas Association, Capital One Bank, the MITRE Corporation, Banner Health, LiveOnNYC, VA Premier, Fairfax County Criminal Justice Academy, George Washington Mount Vernon, and many, many others.
Mr. King is a Certified John Maxwell Team speaker, presenter and coach, providing a dynamic, engaging, and informative presentation wherever he goes. He has had the honor of speaking alongside, teaching for, or sharing the stage with former Drug Czar of the United States, General Barry McCaffrey, Virginia State Congressman Frank Wolf, Virginia Tech Shooting Survivor Kristina Anderson, Sikh Temple Shooting Survivor Lt. Brian Murphy, leading combatives and self-defense expert Tony Blauer, and numerous others.
Gaining a wealth of experience and knowledge from USMC service and combat deployment for OIF/OEF, as well as Law Enforcement and Tactical experience over 14 years, Brendan does his best to share those lessons learned in a light-hearted, yet realistic manner to audiences all over the United States.  Mr. King has also been featured in publications such as The Washington Post Newspaper (both print and online), featured interviews with CBS News, and as a consultant for numerous private organizations helping them to better prepare their workforce for emergency situations and managing crisis behavior.
---
Mental Health Training, Certifications, and Experience:
Over 11 years Combined Work and Volunteer participation in Mental Health/Substance Abuse Rehabilitation Field with Adolescents and Adults–Direct Care and Supervisory roles
Certified Substance Abuse / Mental Health Crisis Response Team Member, CADRE, Va.
Prior Certification as Facility Instructor/Trainer, Comprehensive Crisis Management
Prior Certification in Non-Violent Crisis Intervention, Crisis Prevention Institute
Prior Certification in Management of Aggressive Behavior
Prior Certification in Medication Management for Residential Settings
Distinguished Service Award, March 2004, Vanguard Inc.
---
Military Training and Experience:
1999-2007, Sergeant, United States Marine Corps, Reserves
Veteran- Served in Operation Enduring Freedom, Iraqi Freedom, Iraq 2003 w/ the 4th Lt. Armored Reconnaissance Bttn.
Graduated, USMC Recruit training, Parris Island, S.C.
Graduated with Honors, Certified 0311, USMC School of Infantry, Camp Pendleton, CA.
Graduated, Certified 0313, LAV Crewman Course, LAV School, Camp Pendleton, CA.
Tan Belt Qualification, Marine Corps Martial Arts Program
Medals Awarded:
Combat Action Ribbon
Presidential Unit Citation
Naval Achievement Medal
Sea Service Deployment
Good Conduct Medal
Meritorious Mast
Global War On Terrorism Medal
National Defense Medal
Marine Corps Institute Certification:
Terrorism Awareness
Military Operations in Urban Terrain (MOUT)
Operations Against Guerrilla Units
Fundamentals of Marine Corps Leadership
Nuclear, Biological, Chemical Contamination Avoidance and Reconnaissance
Marine Rifleman
Infantry Squad Leader: Combat Leadership
Principles of Instruction For Marine NCO's
Having served as a Sergeant in the US Marine Corps Reserve, he safely returned from deployment to Iraq to serve in Operation Enduring Freedom / Iraqi Freedom. Sergeant King participated in the liberation of the country of Iraq, while performing combat operations with the 4th Light Armored Reconnaissance Battalion. While there, his company was attached to various infantry battalions providing armored security, combat operations, and reconnaissance for the other infantry troops on the ground. Also having been attached to Task Force Scorpion he participated in numerous raids to capture former Baath party leaders, Republican Guard troops and Saddam Hussein loyalists. He was certified as a Tan Belt in the Marine Corps Martial Arts program and has been an active student of Hwal-Moo TKD under Grandmaster Kun Hwa Lee. This art focuses on practical combat and self defense, incorporating elements from many different martial art styles, such as: Tang Soo Do, Hapkido, Judo, Jujitsu, and Muay Thai Kickboxing to defend against both single and multiple attackers. In addition, Mr. King has been a certified Fundamentals Level Coach in the Personal Defense Readiness™ system for over 7 years. This reality based self defense system was created by industry pioneer and self defense expert, Mr. Tony Blauer of Blauer Tactical Systems (BTS).  CCG is one of only two authorized affiliates in Virginia to teach this system under BTS.
---
Law Enforcement Experience and Certifications:
Master Deputy Sheriff, Patrol Division, FCSO
Sheriffs Emergency Response Team (SERT) -Entry, Team Sniper, VA
SERT – Tactical Team Training Coordinator, VA
Combat Pistol Certification Course, Central Shenandoah CJTA
SWAT Sniper Certification, Fairfax County Police Department, VA
12 GA Door Breaching Instructor, Singleton International
Live-Fire, Dynamic Clearing Techniques, Singleton International
Hostage Rescue and Drug Raids Certification, Singleton International
Specialty Impact, Distraction, and Chemical Munitions Certification
M26 Advanced TASER® & TASER X26 Certification
Field Training Officer Certification, DCJS VA
Defensive Tactics Instructor Certification, DCJS VA
Clandestine Methamphetamine Labs Certification-First Responder, DEA
Street Gang Investigations Certification, DCJS VA
Court Services Officer, Fauquier County Adult Court Services, DCJS VA.
NCIC/VCIN Certified User
Prior Licensed Private Investigator, VA ID# 99-131299
Compliance Agent, DCJS, VA
Bail Enforcement Agent, TruthSeekers, LLP.
Loss Prevention Agent, Jamesway Corporation
Mr. King brings law enforcement training, certifications, and experience through his work as a sworn Deputy Sheriff assigned to the Patrol Division and SERT (Sheriffs Emergency Response Team) with Fauquier Country Sheriffs Office in Northern Virginia. Having been assigned to both the Entry team and one of two team Snipers, Mr. King has had numerous years of experience with high risk / high stress emergency situations. His criminal justice background is further rounded out as he has worked as a Community Corrections Local Probation Officer in addition to briefly working as a Bail Enforcement Agent for Truthseekers, LLC where he conducted surveillance, apprehension, and retrieval of fugitive felons.